Community Outreach
Matthew 25-Clothes Closet
Live the Proof, Inc.
Live the Proof is a local nonprofit that has a local soup kitchen on Tuesdays and Thursdays from 10:30 – 12:00 pm. In addition, they offer a free grocery store on Tuesdays from 10:30-12:00 p.m. LTP offers a Drop-Inn Center for those experiencing homelessness in which they can get shelter from the elements, get access to Wi-Fi, snacks and water. For those working, LTP offers overnight shelter and transportation to and from work. For more information go to
https://www.facebook.com/Live-The-Proof-inc-110496997368551/
Alcoholics Anonymous
Meets each Thursday here at FPC at 6 pm in the upstairs educational wing. Entrance is door off the parking lot.
Room in the Inn is a very simple winter shelter program where congregations open their doors one night at a time to a small group of persons who are experiencing homelessness. Participating congregations offer a warm, safe place to sleep and share an evening meal and a light breakfast the following morning. This program originated in Nashville and has been operating since 1986. They now have over 180 area congregations participating in the program and it has been replicated in many cities and towns throughout the country with great success. Check out full details and ways you can help at our R.I.T.I. page or connect with them directly on the community Facebook page.
Good Samaritan
FPC supports Good Samaritan, Inc. a community-wide ministry which assists people in transit, or in crisis, with food, shelter, or whatever other emergency needs they may have.
Franklin-Simpson Boys & Girls Club
FPC works with the Boys and Girls Club by offering monetary support and providing after school meals 3 or 4 times per year. Many children eat early school lunches and may not get picked up by parents until 6:00 p.m.
During the summer break when Boys and Girls Club was closed, FPC (through Christian Service Committee) provided money for activity kits and craft materials.
Franklin Presbyterian Church is actively involved with Habitat for Humanity which provides decent housing for families in need. Habitat is an ecumenical Christian housing ministry. Volunteers have built seventeen Habitat homes in the Franklin-Simpson community.
In addition, FPC supports Camp Habitat, an annual 24/7 Christian service camp for local high school students. The youth spend a week working on home improvement projects for elderly, disabled and low income homeowners in the Franklin area. Evenings are dedicated to worship service and fun activities.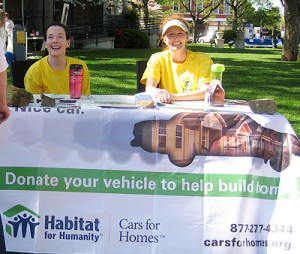 Summer Feeding Program
If you want to know more about the Summer Feeding Program in which Franklin Presbyterian Church is an active participant, check out this two minute video. We would love you to come volunteer one lunchtime. We take packed lunches to children around town during the summer school vacations. Our church delivers about 50 meals each day; other churches and organizations deliver hundreds more. What better way to spend a summer's weekday between 11:15 and 12:45 than to help feed children!
The 2023 Summer Feeding program runs from May 30-August 4.
Bean Soup Fundraiser
The Annual Bean Soup Luncheon has been a church/community tradition for over 50 years. All proceeds raised from the event go to local missions. Volunteers can help cook, serve, sell tickets, and more!
Thank you to all in the community for supporting our annual Bean Soup lunch in 2019! With your healthy appetites and donations to the cause, we raised over $3,458.00 for local mission work! Bean Soup 2020 was cancelled due to the pandemic, but we hope to see you in 2021!
Literacy
FPC has a long-standing relationship with adult literacy in Simpson County and to the Goodnight Library. Ella Hoy Goodnight, who left the money to build the public library, was the first woman elected elder of FPC. Several members and friends of FPC volunteer as tutors, serve as staff, and serve on the Board of Directors of the Simpson County Literacy Center.