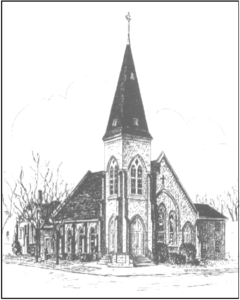 Our Church History
"In the beginning was the Word, and the Word was with God, and the Word was God." (John 1:1)
Franklin Presbyterian Church had two beginnings. The first was around 1820 when a Cumberland Presbyterian congregation was organized in Franklin. The congregation first shared a union meeting house with the Methodist Church, but in 1867 built its own church on South Main Street. The second beginning was in 1870 when a congregation of the Presbyterian Church U.S. was organized.
Both of these churches erected brick church buildings about 1885. The U.S. church sat at the corner of Main and Washington Streets and was known as the "Main Street Church." The Cumberland Church sat at the corner of College and Kentucky Streets. The two churches merged in 1944 to become the present Franklin Presbyterian Church.
The present church was designed by MacDonald Brothers out of Louisville. Other MacDonald Brothers structures in Franklin are the Courthouse, the Goodnight House (present Chamber of Commerce) and the old stone jail. The church was built by Forbes and Bros. of Bowling Green. When it was dedicated in 1886 a newspaper article described it as, "unique and elegant…(the ceiling timbers as) all exposed and so curved and adjusted as to produce a most pleasing effect. The windows are of cathedral and colored glass, softening and beautifying the light. The floor is inclined, giving all an equal chance of sight and hearing…it is elegantly carpeted throughout. The pews are hardwood, curved in bottom and back, and set at an angle to make them exact in comfort."
In 1965, a two story Education Wing was added to the church, providing the congregation expanded opportunities for study and fellowship. The wing included choir practice and youth gathering rooms, a nursery, and a handicap access ramp. This wing was refurbished in 2019 adding handicap bathrooms.
In 2013, the church added a large multipurpose building, "The Cornerstone", separated from the sanctuary by a "peace garden". It contains bathrooms with showers, an excellent kitchen, laundry room, electronic and video capacity, and a large common area. This beautiful and desirable space for many community gatherings greatly expands the church's ministry.
After 200 years of Presbyterian presence in Franklin, our history leads to a future of seeking God's will for our lives and serving all people for the sake of Jesus Christ.