Living Waters for the World
This year, our team will go to Palin, Guatemala to train our partner church how to install and maintain a Living Waters for the World water treatment system. If you'd like to support our mission team, you may purchase tickets to our upcoming "Wine to Water" Dinner Fundraiser.
Click here to view all the details
and be sure to
contact us to purchase tickets
!
Last year, our Living Waters for the World team at FPC completed training at Clean Water University in Oxford, MS. In October, the team signed a covenant with Livings Waters for the World, forming a partnership to undertake a mission to install a Living Waters for the World water treatment system in a Presbyterian church/school in Palin, Guatemala. Check out our
Facebook
page @
https://www.facebook.com/fpclwwteam/.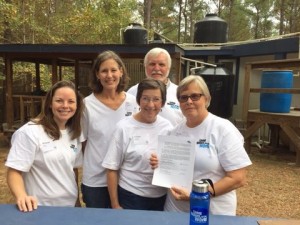 Clean Water U (CWU) is the training school of Living Waters for the World. Held at beautiful Camp Hopewell near Oxford, Mississippi and Calvin Crest near Oakhurst, California, Clean Water U is a simulation experience designed to equip mission teams with the skills necessary to form partnerships with communities in need of clean water, equip local leaders to lead ongoing health, hygiene and spiritual education and install the Living Waters for the World clean water system. Graduates of Clean Water U then serve as their mission group's team leaders in subsequent water-focused mission trips. These objectives are taught in three separate workshops.
Join us on our journey of transformation as we walk together with our partners, working to share clean, sustainable water with communities in need. Check out https://vimeo.com/122331382 to see a LWW filtration system and check out their website for details on CWU.